San Pancho – Things To Do
THE PERFECT DAY IN SAN PANCHO
Go for an early beach walk to connect with yourself and the sound of the waves. Breathe fresh air!
Come back, shower listening to the jungle and birds. Prepare your own breakfast in our fully equipped kitchen.
Relax by the pool or jacuzzi. Listen to your own calm music and just feel, read and enjoy the sun.
Get an in-house massage to relax your mind and body
Start thinking about lunch. You can have lunch made especially for you by arranging it ahead of time with a private chef, or visit the local restaurants, easily accessible with our golf cart.
Or just take a walk to town and enjoy the scenery.
Take a long and deserved nap.
Enjoy a great afternoon at the beach with the sun and surf. However, our ocean is not protected by the bay, so it is open sea, which means that the surf is a bit rough, please be careful.
You must not miss the sunsets. San Pancho's are stunning and world famous.
Dinner time! Pick one of the local restaurants, or be adventurous and drive to Sayulita or the nearby towns to visit other restaurants.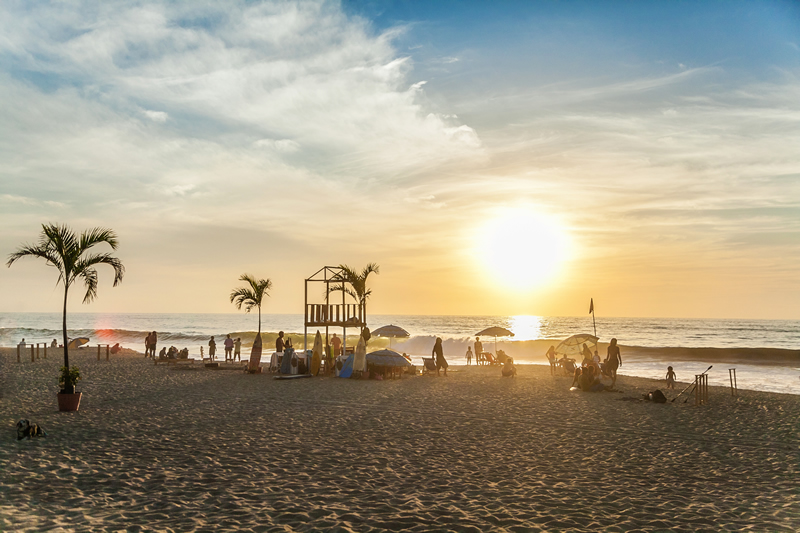 Restaurant in San Pancho
Cielo Rojo, great organic and local produce meals, freshly made and delicious.
Maria´s, breakfast and lunch … good Mexican style food and great friendly service.
Toscana, good pizza, and great pastas. A lot of fun to watch people go by sitting outside.
Dolce Amore, great Italian food, great salads, huge portions!! And great gelato!!
Barracuda, fresh seafood, great place.
La Ola Rica, great place to see locals and close to the beach. Good food!
El Gallo, great home made mexican food and great ambiance.
Limbo, very good food, lunch and dinner. Try their Tacos de Jamaica!!
Ikan, great seafood!
Organik, right at the beach and the estuary. Great ambiance
La Patrona Polo Club, very close to us, great food and drinks, right in front of the beach.
Restaurants Outside of San Pancho
Sayulita (10 min south)
Pizza Venezia, great Italian food and thin crust pizza
Don Pedro´s right by the beach, good food and beautiful setting
La Rustica, Sayulita, good pizzas and more, great to watch people go by
Bucerías (25 min south)
Toscana Mia for dinner, one of the best Italian food restaurants around.
La Postal, great breakfast, lunch and dinner, casual, steps from the beach.
Sandrinas, great Mediterranean food and drinks, and chatskis.
Karen's Place right at the beach, great Mexican food and drink.
Restaurants An Hour Away
Puerto Vallarta
Salud Super Food, great healthy food and people watching
Café des Artistes, fantastic upscale Mexican food with French influence. Reservations needed.
La Cigale, French bistro, great upscale French food.
Planeta Vegetariano, tucked away, a bit up the hill, wonderful vegetarian food

Other Activities
By planning ahead, you can get very adventurous and book a horseback riding experience at the beach or nearby local places.
There are plenty options for adventure trips all over the place: go Whale Watching (Nov thru March but the best months are January and February); go Bird Watching in San Pancho, it is a lot of fun and very interesting; take surfing lessons.
Visit the many local shops and go wild with lots of beautiful things and souvenirs to buy or just window shop in Avenida Tercer Mundo, the main street.
Everything is very close by and the locals are very friendly. The town is quaint, clean and safe.
One of the best entertainment activities is to visit the Farmer´s Markets. Go early for fresh veggies and lots, lots of food, entertainment, people watching, souvenirs. (San Pancho on Tuesdays; Sayulita on Fridays; and La Cruz de Huanacaxtle on Sundays)
If you want to try your culinary abilities, go grocery shopping and get creative in our own very well equipped kitchen. Or hire a personal chef and watch him/her do magic in front of you, while you enjoy a refreshing margarita.
Visit La Patrona Polo Club that is opened to the public. Private horseback riding classes, restaurant. Check out: https://tierratropical.com.mx/
For peace searching, do yoga! El Estar, https://www.elestar.org/ and Yoga San Pancho, http://yogasanpancho.com/
In Puerto Vallarta you can get to know the town or go on Wednesday evenings so you can enjoy Art Walk. http://vallartaartwalk.com.
Walk in Malecón after dinner, very entertaining.